Here at Warm, we know our fair share about central heating and boiler installation. We're well aware that boilers aren't the most attractive objects to have in the home. However there are some options for placing them where they won't be in the way. We offer lots of advice, including answering the question how do I hide a boiler in the kitchen? The following tips could help if you are looking to do just that.
Solutions for a £100 budget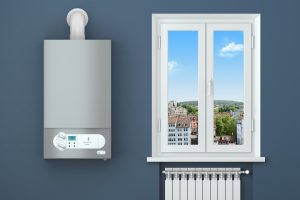 If you have as much as £100 to spare, you can try building a cupboard around the boiler. You can match it to your decor too. Make sure you examine the needs surrounding airflow though. The last thing you want to do is hide it only to find that you block the air and prevent it from firing.
Boxing in your boiler using plywood and then painting the box is the simplest way of hiding it. It's even possible to employ blackboard paint and transform it into a functional piece.
Remember that you'll also need to make sure that you box in the pipes. Afterwards, you can decorate them in a scheme that's identical to the rest of the kitchen.
One thing to keep in mind is that your boiler will need servicing at certain times. This means engineers will need to access it, potentially at short notice. Therefore, you have to make your cupboard easy to open and user friendly.
What can I do if I have plenty of space to spare?
Some people who will be fortunate enough to have an abundance of space in their kitchen. If you are one of them you have more options for how do I hide a boiler in the kitchen. One thing you can do is construct a purpose-built area for the boiler. You might even be able to fit a few other appliances in here too. This could possibly become a utility room. It is relatively easy to section off a part of the kitchen. You'll likely require a joiner for this but it will be well worth the money.
If you're feeling a little discouraged about designing a room around your installation, then don't be. This doesn't have to be an issue at all. With a few creative ideas, you can hide the boiler with ease. You can give yourself additional storage and also amplify your designs while you're at it. When you finish, you might just be surprised at how well everything turned out.
Contact our team
Anyone who requires assistance with their boiler is more than welcome to get in touch with us. We can provide you with advice or have an engineer sent out to work on your systems. If you are asking how do I hide a boiler in the kitchen, we have the answers for you. More importantly, we will ensure you work with an engineer who can move the boiler safely.
Our people will see to it that you're working with the most competent and skilled professional in your local area. Call today or use the quote form on our website.