The Nest Thermostat is one of many advanced clever thermostats that allow you to control your heating from your phone anywhere in the world!
We've all heard of a thermostat. In essence, it is able to sense the air temperature in your home and communicate this with your heating system to maintain and control the temperature to your desired level. If you have set it to 20 degrees and the temperature in your home drops below this point, your thermostat will kick in and tell your boiler to start heating the house. If it goes above 20 degrees, it will be your thermostat that tells your heating system to stop working.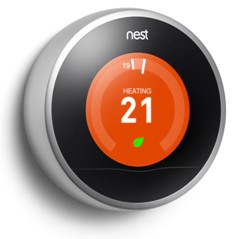 But what about a Nest Thermostat? If you haven't heard of it already, now is the time to get clued up. It's the next level of thermostat – the latest gadget that everyone is getting fitted into their homes. It's where the future is at.
Essentially, it doesn't need programming; use it for just a week and it will adapt itself to your lifestyle, learning from your established behaviours. Aside from looking super stylish (and we mean ridiculously!), it is uber clever too. Using sensors and the location on your phone, it is able to measure when you're out the home and can set itself to eco temperatures to help you save energy.
Additionally, if you're out the house but want to ensure it's warm for your return, then you can check in with your thermostat direct from your phone. Just adjust the temperature on your mobile and it'll be the perfect heat ready for when you get home. You can also use your Nest Thermostat to control your hot water tank. And you can adjust it direct from your mobile app to ensure cold water is a thing of the past.
Don't worry if you forget to turn your heating and hot water off when you're away from home – you can do this from your phone too, and schedule in your return so it's ready for your arrival without any extra stress for you.
The Nest Thermostat is a great money-saving device. You can check in to find out your energy history, get a monthly home report and can also check via your device if you're saving energy thanks to a leaf symbol. This icon is unique to every family,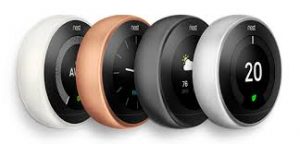 dependent on your own saving requirments.
Gone are the days where your thermostat is clunky and unsightly; the Nest Thermostat is something you would be proud to show off in your home. It's a piece of technological, digital artwork for your work. Available in a copper rim for a warmer mood or stainless steel for something more classic, subtle black for a classic touch or white for a modern finish. It's a beautiful and yet practical part of any cosmopolitan home.
It's also there to keep you safe. If your Nest Thermostat senses any danger – for example, if your boiler can't keep up with cold temperatures – it will alert you. Forget constantly being on high alert – your Nest Thermostat does the hard work for you.
Cost
To purchase a Nest Thermostat for your home, it will cost £249 for the 3rd generation device (including professional installation in the UK) when bought through Nest. To buy the thermostat, without fitting, it is available for around £187 on Amazon and £199 at John Lewis. It's a worthwhile investment for such a clever, stylish and practical piece of kit.
We can supply and fit Nest Thermostats, get a Quote today and save money with Warm.co.uk