Welcome to Warm.co.uk, the easiest place to find and compare the prices of a new Combi Boilers. Click here for our online calculator and we'll ask you a few simple questions about your property and type of boiler. No personal details are required. A fixed price will then appear on the screen.
Or, if you prefer to speak directly to local gas engineers, use the "Get 3 FREE Quotes" form to the right. We will match your requirements with our trusted & accredited Gas Safe engineers. We aim to get you 3 FREE no-obligation quotes the very same day.
It can be tricky to get a clear cheap combi boiler price. If you are thinking "I need a new boiler"  then read below, we will give you a basic idea of the cost for the three main replacement scenarios.
A replacement combi boiler, Gas boiler prices
This is naturally the most cost-effective option and should be the cheapest too. The main thing that can affect the price is if the boiler needs to be moved. If it can remain in the same location the connections will already in place. As a result, the cost will be lower.
| Type of installation | Cost estimate | How long will installation take? |
| --- | --- | --- |
| New combi boiler in the same location | £1,995 for a mid-range model | Approximately 24 hours |
| New combi boiler in a new location | £2,600 for a mid-range model | Between 24 and 48 hours |
A replacement for a back boiler cost
These boiler replacements can be a big job. If you choose to replace the machine with a combi the current appliance will need to be removed as well as the hot water tank.
| Job | Cost estimate | How long will installation take? |
| --- | --- | --- |
| Replacing a back boiler with a new combi boiler | £2,950 for a mid-range model depending on the scale of the job. | Between 48 and 72 hours, again depending on the scale of the job. |
Please note that all prices are estimates and the actual bill will always vary depending on the model and the specifics of the job.
How is the total cost calculated?
When you start looking for a combi boiler price you will quickly find just how much quotes can differ. Several different factors have an impact on the cost of a new boiler. We will go over some of the most important ones here so you can get an idea of what to look for.
Different price groups
The first thing you should do when looking for a new combi boiler is to break them down into different price groups. Generally, there will be four different ones:
Entry-level – the cheapest option, generally has the least amount of features and lowest heat output
Economy – a step up typically with a higher heat output
Mid-range – another step up, could have more features
Premium – the most expensive in the category
It is always a good idea to look at each combi boiler cost categories and see exactly what you will get for your money. That way you can decide what your budget can get you. One thing to keep in mind is that the highest cost will not always mean the best quality.
Combi boiler sizes
The next thing to do is group the combination boilers by size. Rather than judging solely on the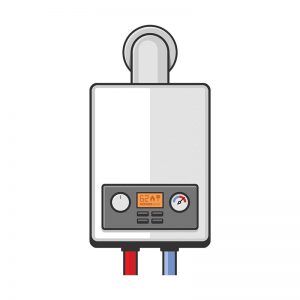 physical height, width and depth, you need to look at heating output and hot water flow rates (LPM). Again there are roughly four different categories:
Small – 24-25kw and 9-10 LPM
Medium – 28-30kw and 11-12 LPM
Large – 33-35kw and 13-14 LPM
Extra-large – up to 40kw and up to 16 LPM
The Boiler Brand
There are several different boiler manufacturers to choose from. Some of them specialise in creating models for specific price levels whereas others offer a broader selection.
Vaillant, for example, don't produce entry or economy level priced boilers. Instead, they focus on mid-level and premium appliances. Potterton on the other hand offer models at each price point. It is always best to choose a brand you are confident in.
Installation: new combi boilers prices
A big part of the total expense is boiler installation. The comforting thing to keep in mind is that a combi boiler price will generally be lower because they are easy to install. They don't require additional water tanks or cylinders; instead, there is just a single unit to connect up. The only challenging part could be installing a flue if there isn't one already.
Your installation costs will be the lowest if you choose to replace your existing boiler with the same type and don't change the location. The advantage here is there will already be plumbing and gas or electrical connections in place. That means a simpler job, fewer components, and lower labour costs.
Fuel type
The type of fuel the boiler is powered by can have a big impact. It will affect the price of the appliance itself as well as the ongoing operating costs. Also, some have additional costs for storing fuel, cleaning, and maintenance.
The cheapest option will always be a cheap gas boiler. The fuel is the cheapest and comes directly from the mains so there is no need for storage. Installation is typically quicker and cheaper too.
Oil is generally the most expensive. Although the fuel itself is very cheap it needs a storage tank. This can be costly and must adhere to strict regulations.
The installation can be time-consuming and pricey too. Finally, there may be larger bills for maintenance and servicing too.
Electrical combi boilers are an interesting middle-ground between gas and oil. The fuel is the most expensive but they tend to be more efficient. They also have lower maintenance costs and installation can be much cheaper too. This could offset some of the higher operating expenses.
For boiler repair, servicing, and installation quotes, call Warm on 0800 311 8990. Or, fill out our handy quote form.