Nationwide New Boiler Installation - Great Deals!
Boiler installation is perhaps the most crucial step in ensuring you have a heating and hot water system in your home that is energy efficient as well as effective.
Ready To Get Up To 3 Quotes To See How Much Money You Could Save?
Good installation is vital for a number of reasons. Firstly, it will ensure proper function. It will make sure the appliance is energy efficient too. Lastly, it will confirm the boiler is safe and won't pose a threat to you and your family's safety.
Types of Boilers We Can Install
We can install any type, regardless whether they are for domestic or commercial settings.
Gas Boiler Installation
System boilers: These appliances require the installation of a cylinder for storing hot water. Luckily, the major heating and hot water components are built into the boiler itself. This makes them easier to install than some other types.
Combi boilers: Highly efficient and cost effective, it is relatively quick and easy to install these boilers. This is thanks to the fact that no hot water cylinder or cold water storage tank is necessary. Their small size makes them the perfect choice to be installed if you have a small property.
Regular boilers: Best installed if your property has an older radiator system. It may not be able to cope with the higher water pressure that results from having a system or combi boiler. A separate cold water storage tank is also needed to feed the hot water cylinder.
CHP boilers: CHP (Combined Heat and Power) are a relatively new type of appliance for domestic properties. Previously they were available in larger formats for commercial premises. Generating both heat and electricity, the installation of these boilers is straightforward.
Electric Boiler Installation
Direct acting electric: These are simplest type and installation is a straightforward process. As a result they are generally cheaper than installing other types.
Electric CPSU: Combined Primary Storage Unit boilers are more popular in commercial settings thanks to their larger size. Domestic properties would need to have plenty of space to install one.
Storage electric: Some of these have a separate hot water boiler whereas others have a built-in storage unit. They take up more room than other types and take longer to install.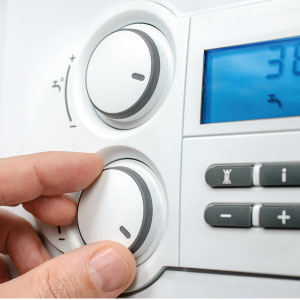 Boiler Installation Tips
Qualified,highly experienced professionals should install boilers. Gas Safe (formerly known as Corgi) heating engineer or plumber should do this in the case of gas boiler installation to ensure they meet the regulations.
Boiler installation costs depend upon the type of appliance installed. Some boilers take more time to install and some require separate hot water cylinders and storage tanks, both of which can increase the cost.
Don't try to install yourself; this is extremely dangerous. Only a heating engineer or plumber fully registered with Gas Safe should do the job.
If you are looking for a new boiler installation then call us now on 0800 311 8990. We work with local engineers across the UK, from London to Birmingham, Edinburgh to Northern Ireland.
A new A-rated boiler could save you up to £320* on your annual energy bills. Ready for a Quote to see how much a new boiler will cost?