Space is important to homeowners in the UK. As a result, many people are looking at different ways in which they can create more space around their home. One such way is by getting your boiler installation in the loft. Alternatively, you could have a brand new one installed up in the loft space from the outset.




The most commonplace in the home for a boiler is in the kitchen or hidden away in an airing cupboard. However, many homeowners prefer to hide them away entirely. What better place to hide it than an empty loft space?
The Regulations
Condensing combi boilers are more compact and efficient boilers these days. They are also incredibly versatile when it comes to finding a suitable location to install them such as the loft. So long as it is feasible to plumb the gas and water terminals and vent the combustion gases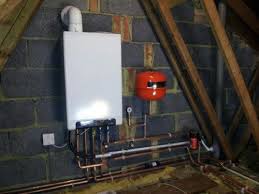 and condensate appropriately, then the limitations that might prevent the installation of alternative boilers can be overcome.
There are several regulations you must follow when installing a modern boiler in your loft. The appliance must be in a place so that heating engineers can have easy access for servicing purposes and safety reasons. There must also be adequate flooring to ensure a safe passage to it.
The loft should have good lighting, a ladder to gain access and a guard rail for safety. Electric, gas and water isolation points are also a requirement. You must choose a Gas Safe registered engineer to carry out the work and replace systems. The cost will vary depending on your existing system and the services you require. With warm.co.uk we only use recommended boiler installers who are hugely competitive on price and we use only fully qualified and professional Gas Safe registered engineers to carry out the work.




Pros of moving your boiler to the loft:
Space
The main benefit is the space you save in moving your boiler to a quiet part of the property. This allows you to better utilise the space you have in the areas of the property you frequent regularly. As an example, I moved from a regular boiler to a Combi boiler. This meant that my boiler moved from a cupboard in my spare bedroom up into the loft space and I lost the need for a tank completely. This has subsequently allowed us to remove one of our wardrobes (creating extra floor space) as we can now store our towels, bedsheets and clothing in the space left by the old boiler. It has been handy!
Aesthetics
Moving a boiler to the loft can enable you to hide all that pipework that was previously a bit of an eyesore. This is particularly valuable for those who want a minimalistic house style or for those that want.
Cons of moving your boiler to the loft:
Future-Proofing Against Damage
By moving your boiler from the warmth of your main living area to the loft, you need to consider the fact that it might be affected by extreme temperatures – both hot and cold.
So it's very important to future proof your loft space prevent damage. In cold weather, the machine and pipework will have to deal with freezing temperatures. This could cause frost damage, so it might be worth looking at the insulation in your loft.
Meanwhile, in the summer months, the loft space could become the hottest space in your
home as heat rises.  Consider ways in which you can regulate the heat and keep the loft at a cooler temperature. In the loft, your boiler is suddenly further away from hot water outlets, such as kitchen and bathroom taps. So performance could be an issue and worth considering. You must speak to our experts and find out more on 0800 311 8990.
Having your boiler in the loft does make it less convenient when you need to check the pressure.  There are now pressure gauges available that can be installed somewhere else in your home. You may also have to consider a move to a wired or wireless room thermostat to control the settings.
Controls
If your boiler is up in the loft, it makes it a little bit more inconvenient if you need to check your boiler's pressure. The only thing that annoys me about having my boiler up in the loft is in the rare instance when my boiler loses hot water and I am required to climb into the loft to re-pressurise it. Sod's law is that this always happens on a cold winters morning when I'm half asleep! There are ways around this, including installing a pressure gauge elsewhere in the property.
Performance
If you tuck your boiler away up in your loft, you are placing greater distance between the boiler and some of your hot water outlets, like your kitchen taps. This may cause a slight delay in terms of the performance of your hot water delivery. Likewise, if you move the boiler closer to your bathroom taps, bath or shower, then you may experience slightly more responsive hot water performance. It all depends on your existing setup but it's worth considering.




Cost
When moving the location of a boiler you must use a Gas Safe registered heating engineer. There is a cost associated with this; the more time it takes to move the boiler the more it will cost you. As a result, it differs depending on your existing system and requirements. With that in mind, it is wise to shop around a get a few quotes from several different reputable heating specialists.

If you are used to controlling your boilers heating performance using the dials or a plugin room stat on the boiler itself, then you will also need to consider moving to a wired or wireless room thermostat, that will allow you to control your boiler settings when you are in another room.
For a new boiler installed in your loft, please click here to fill out our quick quote form today. You can also get in touch with us to speak to our team of experts. This way, it won't be long before you're working with Gas Safe engineers to help provide you with precisely what you need.