The advantages and disadvantages of having your Boiler installation in the loft
Space is important to homeowners in the UK. As a result, many people are looking at different ways in which they can create more space around their home. One such way is by gettng your Boiler installation in the loft. Alternatively, you could have a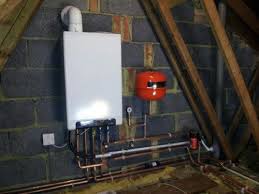 brand new one installed up in the loft space from the outset.
The most common place in the home for a boiler is in the kitchen, or tucked away in an airing cupboard but many homeowners prefer them to be hidden away totally out of sight. What better place to hide it than an empty loft space?

The Regulations
There are a number of regulations you must follow when installing a boiler in your loft. The appliance must be positioned so that heating engineers can have easy access for servicing purposes and for safety reasons, adequate flooring must be laid to ensure a safe passage to it.
The loft should have good lighting, a ladder to gain access and a guard rail for safety. Electric, gas and water isolation points are also a requirement.
The best way to answer your questions is to speak with a Gas Safe approved engineer. We can Arrange A Call Back from up to 3 different recommended experts, any advice or quotes supplied will be obligation free
Pros:
The obvious benefit of having your boiler in the loft is the space you save. By moving it to an area of your property that is hardly ever used, you gain more space in the rooms that matter AND you have the added benefit of hiding all that nasty pipework out of sight.
Cons:
It's important that you choose a Gas Safe registered engineer to carry out the work. The cost will vary depending on your existing system and the services you require. With warm.co.uk we only use recommended boiler installers who are hugely competitive on price and we use only fully qualified and professional Gas Safe registered engineers to carry out the work.
By moving your boiler from the warmth of your main living area to the loft, you need to consider the fact that it might be affected by extreme temperatures – both hot and cold.
So it's very important to future proof your loft space to prevent damage. In cold weather the machine and pipework will have to deal with freezing temperatures, which could cause frost damage, so it might be worth looking at the insulation in your loft.
Meanwhile, in the summer months, the loft space could become the hottest space in your home as heat rises.  Consider ways in which you can regulate the heat and keep the loft at a cooler temperature. In the loft, your boiler is suddenly further away from hot water outlets, such as kitchen and bathroom taps. So performance could be an issue and worth considering. Its important you speak to our experts and  find out more on 0800 311 8990.
Having your boiler in the loft does make it less convenient when you need to check the pressure.  There are now pressure gauges available that can be installed somewhere else in your home. You may also have to consider a move to a wired or wireless room thermostat to control the settings.