Welcome to Warm.co.uk, the easiest place to find and compare Boiler Servicing quotes Click here for our online calculator and we'll ask you a few simple questions about your property and boiler. No personal details are required. A fixed price will then appear on screen.
Or, if you prefer to speak direct to local gas engineers, then use the Get 3 FREE Quotes form to the right. We will match your requirements with our trusted & accredited Gas Safe engineers. We aim to get you 3 FREE no-obligation quotes the very same day.
Like you would with a car, you need to maintain a boiler to keep it operating as well as possible. Annual services help make sure that your appliance stays running as efficiently and safely as possible.
Investing in a regular boiler service is one of the most financially savvy things you can do. In fact, it can save you significant amounts of money in the long term. Manufacturers highly recommend annual servicing. It allows you to prevent any damage to your appliance and pick up on any problems before they become serious. This can save on costly Boiler Repairs.
Having an annual service not only ensures that your boiler is working safely; it also makes sure it is operating efficiently too. The more efficient it is, the less gas it uses. Therefore the less it costs you in the long run.
5 Reasons To Have an Annual Boiler Service
Boiler Servicing Saves Lives
A faulty boiler can be extremely dangerous. Did you know that about 4000 people per year go to hospital with carbon monoxide poisoning thanks to leaking boilers? An average of 50 of these people die. A regular service from a Gas Safe engineer will ensure that it is operating safely.
Boiler Servicing to Reduce Your Energy Bills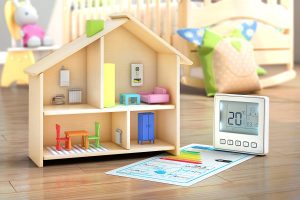 Over time, boilers can end up running inefficiently. This means that your fuel bills can increase as a result of wasted energy which means you are spending money and not even heating your home.
Our engineer will ensure that your boiler is operating efficiently. This will only save you money. Plus, it will reduce your carbon footprint which is good for the environment.
Boiler Servicing to Save On Costly Repairs
Regular servicing can highlight potential problems, enabling them to be fixed or prevented before turning into costly issues. One payment for a service can save a LOT of money on repairs in the long run.
Ensure Your Insurance & Warranty Stays Valid
Most warranties as well as some home and business insurance policies insist that your boiler is safe to use. An annual check from our Gas Safe registered engineers will meet most if not all of insurers' requirements.
Ensure You Are Legal
If you are a business or a landlord you will have certain legal obligations related to your gas boiler. We will provide you with a Gas Safety Certificate which will be one of your main legal obligations.
Think of a service as an investment – regular maintenance keeps your boiler running efficiently, and helps to reduce energy bills! get a quote now
Your Boiler Service Will Include:
A full inspection of your appliance and its controls: This will ensure that they are working as they should.
Comprehensive checks for leaks and corrosion: These can not only lead to your boiler not operating efficiently This will cost you a significant amount of money in gas bills. It could also be extremely dangerous if carbon monoxide is leaking.
Casing removal and check: Our engineer will remove the casing of and ensure that all main components are operating as they
Gas pressure check: Too little pressure or too much pressure can lead to your appliance not working correctly, being inefficient, or even being dangerous.
Flue check: Our engineer will perform a full and comprehensive check of your boiler's flue to ensure that it is not emitting any unsafe fumes.
Full clean: Sometimes our engineer's tests will indicate that certain parts of the boiler need cleaning. If this is the case, the engineer will clean them fully and replace them.
Seal check: Once the service has been carried out by our engineer they will put the casing back on and make sure that it is correctly sealed.
A checklist of information of what has been done during the service will be provided.
How often?
You should check with your manufacturer when it comes to servicing but the first one should usually be done 12 months after it is installed to comply with the warranty. Servicing will then need to take place every 12 months after this on a regular basis.
Should you miss the annual boiler service because you forgot to book it or something else happened and you think the warranty might now be void, don't panic. Ring up the manufacturer and check first as they might be flexible and willing to help you find a way to keep your warranty valid.
Making it easier to arrange annual servicing
If you are someone who thinks they will forget to sort an annual service, then you can always arrange a standing order. You can then spread the service cost over 12 months and have them contact each you every year to book your service. This helps keep you organised and means you can rely on your appliance to keep you warm and comfortable.
Let Warm help you
You need someone who knows their stuff looking at your boiler. This way, they can correctly identify any issues. Then if any work needs doing, they can carry it to a professional standard to keep your appliance running efficiently.
To book your boiler service, complete our form or call now to speak to one of our friendly customer service agents.