The team at Warm is one that knows all about the important details surrounding boilers. This makes it easy for us to answer questions when people want to know more about them. One of the most common inquiries relates to commercial boiler installation cost. To help you, we have lots of information on the subject below.
Where do you install commercial boilers?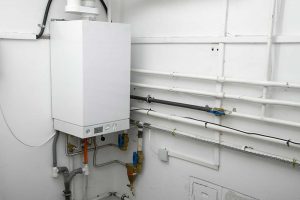 Commercial boilers are necessary in huge structures like supermarkets, warehouses, factories, restaurants, hotels, and schools. When it comes to replacing them, you have several different options to choose from. This includes steam, atmospheric, condensing, oil, and gas fired boilers. You need to select the right model for the property, ensuring it can provide enough heat and hot water.
Our Gas Safe engineers are able to handle all the installation, maintenance, and repair efforts. They can also take on the role of consultant to help design installation projects according to the specifications of the customer.
Efficiency
When the time comes to secure a new boiler, the UK environmental laws demand that you install an energy efficient one. The contemporary and more effective models lower the amount of fuel you consume considerably. Another thing that they do is diminish a company's or building's carbon footprint.
Skilful engineers like the ones we work with are capable of installing a whole boiler and all of its hardware. Examples would be electrical components, steam headers, and water treatment.
The installation costs
As for the commercial boiler installation cost, it shall all depend on the amount of work that takes place. You may want to install your new boiler in the same spot as your old one. If so, you might need to pay £600. However, the situation could require you to install it somewhere completely different. In these circumstances, the costs can be between £1,500 and £1,800. We can provide you with the quotes when you contact us. They will include the exact prices.
It is all worth it
The costs of boilers and their installations can be expensive, especially with commercial systems in large properties. What you must understand though is that everything will pay off in the end. This is especially true if you are swapping an older boiler for a newer, more efficient design.
If you have any other questions about commercial boiler installation cost, boilers or your central heating system, you can always come and speak to us. You are welcome to call us 24 hours a day, 7 days a week. Our website also has a wealth of information for you to look at.