Welcome to Warm Southampton, the easiest place to find and compare new boiler installation quotes. Click here for our online calculator and we'll ask you a few simple questions about your property and boiler. No personal details are required. A fixed price will then appear on the screen.
Or, if you prefer to speak directly to local gas engineers, use the "Get 3 FREE Quotes" form to the right. We will match your requirements with our trusted & accredited Gas Safe engineers. We aim to get you 3 FREE no-obligation quotes the very same day.
One thing many people think about when they get a new boiler installed is whether they should

move it. This is possible in several cases and can provide many benefits. It all comes down to what kind of appliance you choose though. You can talk to a provider of central heating and boiler installation Southampton residents rate highly if you are thinking of this kind of relocation.
Why move the appliance?
There are several reasons why homeowners choose to relocate their boilers. Below we will discuss the most common ones.
Space-saving In many homes the boiler takes up quite a lot of space, whether it is in its cupboard or mounted on the wall in the kitchen. A move could save you some space and ensure the boiler is not in a problematic location.
Improving the aesthetics When people do some remodelling on their home the idea of moving the boiler may come up. It may be located in an area where it is currently visible. Moving it to its cupboard so it is no longer on the show may be wise. Alternatively, the location may change because of the new layout.
Safety The most common reason for moving a boiler is to improve safety. Some appliances need good ventilation because of the fuel they burn. This may result in a move from a poorly ventilated cupboard or room to one with better airflow. Visible boilers may also need moving so that young children and pets can't go near them.
Ease of maintenance Placing the boiler in a cupboard may be convenient but it can cause problems when it comes to maintenance. If the appliance is difficult to access and surrounded by other items it can stop the engineer from testing and repairing it. Moving it to a more accessible location is wise and can result in quicker, cheaper maintenance.
Get a professional engineer in Southampton to move it
If you do opt to move the boiler it should be done by a trained professional. The connections need moving carefully, ensuring the old ones are no longer live. The engineer will also ensure the new setting is suitable.
Warm.co.uk makes it easy to find help with this kind of job. We work with specialists who offer central heating and boiler installation Southampton homeowners put their complete trust in. Simply call us today on 0800 311 8990. Also, our quote form can help you to get three prices quickly.
Planning a boiler relocation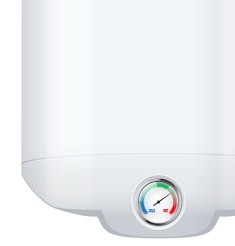 The first thing to do is to ensure you are working with an engineer who can deal with the type of fuel your appliance is powered by. If it is gas they should be Gas Safe registered and have ID to prove it. This means they can work with your gas lines safely.
New connections may need to be created as part of the relocation. For example, a new gas line may need to be run or wiring may need to be added. Also, new ventilation could be required such as a flue. Each of these jobs should be done by a professional.
What is the best location for a boiler?
Every property and household is different so there is no single "right" location. Instead, it comes down to specific requirements and factors such as the type of appliance. You could have it mounted on the wall or standing on the floor. It could be visible in the kitchen or bathroom or you could hide it in a cupboard; the choice is up to you.
The important thing to keep in mind is the location must be legally compliant and safe. Also, make sure it is easy to access so you can use the controls and an engineer can work on it if necessary.
Central Heating Southampton
Don't neglect your central heating system either. One of the most important components included in the heating pump. It takes hot water from your boiler. Next, it pumps the water around the pipes existing in your property. When these pumps aren't working, they can cause trouble for your set up.
One issue that people commonly encounter with the pump is that it's running but failing to pump any water around your system. You might be dealing with a stuck component. If you are, then a gentle tap will solve the issue in many cases. When the pump starts experiencing seizures regularly, your pump's lifespan may be nearing its end. Let us know if you need anything replacing in your central heating system.
If you do need help warm.co.uk can find it for you. We are proud to work with providers of central heating and boiler installation Southampton residents can rely on. Whether it is a quick relocation or installing a new boiler in a different location, we can find a quick service for you.
Southampton is a port city on England's south coast near Portsmouth. It's home to the SeaCity Museum, with an interactive model of the Titanic, which departed from Southampton in 1912. Nearby, Southampton City Art Gallery specialises in modern British art. Solent Sky Museum features vintage aircraft like the iconic Spitfire. Tudor House & Garden displays artefacts covering over 800 years of history, including a penny-farthing bike.