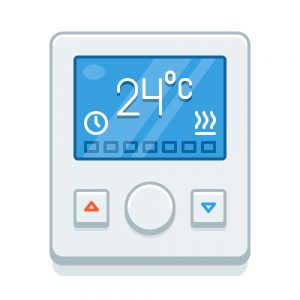 In 2015, the UK Government launched a rollout scheme of smart meters into every household in the UK. This was part of a £11 billion carbon emission reduction initiative which aims to reduce nationwide carbon emissions by 34%. As a result, every household in the UK will receive a smart meter by 2020, if the scheme goes according to plan.
What is a Smart Meter?
Smart meters are gradually replacing old gas and electricity meters. They work wirelessly, automatically sending energy usage details to your energy provider. Consequently, the provider uses the information to bill you based on exactly how much gas and electricity you have consumed.
What are the Benefits of Smart Meters?
Installing a smart meter in your home can provide a number of fantastic benefits. These include:
A smart meter display allows householders to monitor their gas and electricity usage. In addition, they show how much the bill is adding up to with live costs direct from the energy supplier. The suppliers can remotely adjust tariffs based on contracts.
Estimated readings become a thing of the past so charges are accurate.
No need for energy providers to send out workmen to your household to gather a meter reading.
According to the government, switching energy suppliers will also be easy work with a smart meter. The switch can go ahead faster and with minimal fuss.
Pre-payment customers are provided with extra topping up options. Therefore the chance of running out of credit at an inconvenient time is eliminated.
Householders can set up their smart meters to work with renewable energy sources. This will monitor how much energy the sources are providing.
Smart meters are provided free of charge by energy providers so it's a no-brainer.
For help and advice on boiler installation, repairs and maintenance, please call 0800 311 8990.
If you would rather use the quote form, we will get you a no-obligation price as quickly as possible.