Reliable boiler engineers aren't that easy to come by if you don't look in the right place. We are a business that's known for providing some of the finest people specialising in central heating and boiler installation Huddersfield has. The quintessential design is one you can depend on. This is something we can help you obtain.
What's the problem?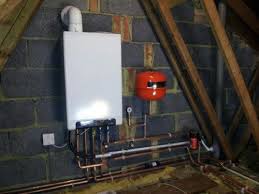 Of course, the engineer actually has to know what the issues are before they arrive. Otherwise, the risk is they won't bring the proper components, leaving them unable to finish the work. It's typically the case that each problem is caused by some defective module inside the boiler, or faulty radiators or pipes.
There are many common issues you should be on the lookout for, including:
Radiators failing to heat up – Air and sludge can accumulate inside radiators with enough time. This can result in them only heating at the bottom, or not at all.
A lack of water and heat – This can come about because of a low water quantity, a ruined motorised valve, diaphragm, or thermostat, or minimal pressure.
Thermostat problems – As time passes, a thermostat's abilities can decline, with it not switching on and off when prompted to. Either you've worn out the gadget or your property is too warm.
Funny sounds – Air can produce a series of strange sounds within the boiler. Concerns with your pressure can result in kettling as well. If one of your pumps is ready to fail, then it'll start making banging noises.
Leaking – Leaks can happen all over the place. If your pressure exceeds the recommended levels, then seals can begin leaking. If the issue is with the pump, then you could've worn it out. Another possibility is corrosion.
Reliable engineers
In some cases, a quick fix might be all that's required. If your boiler or central heating is merely broken, you should let us know straight away. The engineers we have at our disposal can fix a multitude of distinct boiler models and types. Yours may very well be aged and discontinued. However, this won't matter as the engineers have come across countless boilers in the past. This makes them the best for central heating and boiler installation Huddersfield has to offer.