Boiler engineers and emergency plumbers can help you if there is ever a problem with your heating or hot water supply. Warm offers a reliable service that lets you get quotes quickly so you can choose the right provider. You can deal with us confident in the fact that we only work with the best providers of central heating and boiler installation Northampton has.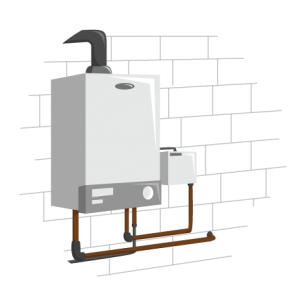 Your boiler is important all year round and will rarely ever be off. You'll use it far more in winter when the weather is cold than during the warmer months. In summer though, you'll still need it to supply your hot water. If you want to stand the best chance of your supplies not being interrupted you have to take care of the appliance. This includes checking it regularly yourself and arranging for a professional engineer to service it.
What type of boiler do you have?
The servicing needs for different types of boiler differ slightly. Here is brief guide.
Combi boilers are compact and don't have any additional components outside of the main unit. As a result they are the easiest to service.
Regular (conventional) boilers are the most complex, featuring a hot water cylinder and a cold water tank to feed it. As a result servicing them can be much trickier and more time consuming.
System boilers are the third and final option, combining elements of both systems. They have a separate cylinder for hot water but most of the components are within the main appliance. This means fewer parts to service but a larger appliance than a combi to work with.
If you need emergency services from an engineer or plumber choose Warm. Our service is fast but also makes sure you don't run the risk of hiring an unprofessional provider. We also make sure you can check from different quotes to see which is right for you. When it comes to services, repairs, central heating and boiler installation Northampton has nobody better to call on.