At Warm, we know that sometimes you may need help with your boiler and central heating. We are more than happy to help you find experts in your area and offer you advice. One such topic you may be curious about is how to install a combi boiler.
The Combination Boiler
This type of appliance gets its name from acting as both a high efficiency domestic water heater and central heating boiler in one unit. This model saves space as there is no need for a hot water tank or cylinder. The popularity is due to their cost efficiency, ease of installation and simple operation. Once installed, you will have a reliable system in place, especially when you remember annual servicing.
The general view is that this type of boiler is the most economical and easiest way to install a central heating system. It will be able to provide you with the hot water and heating you need, when you need it.
The part that provides central heating uses a pressurised closed loop system which the boiler will heat when needed. The hot water portion has a mains supply which goes direct into the boiler. Because of this design there is no tank that will need to refill, rather a supply of hot water that is constant and at mains pressure.
Use A Gas Safe Worker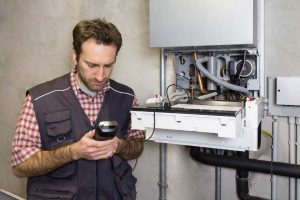 The installation of this type of boiler is fairly straightforward, but still requires expert care. This is because of the law and for the safety of the appliance. A dangerous boiler can be very harmful to you and costly when dealing with issues. This is why you need to ensure that it is installed correctly. So, only ever work with someone on the Gas Safe Register. They will know how to install a combi boiler safely.
Some considerations for this work include looking at your gas supply. All modern combi boilers need a supply of 22mm. In most situations, this will be in the middle below the boiler. You can upgrade this to allow for a combi, but you would have to work out how to get it from the gas meter to the boiler.
The location of the condensate pipe and flue are also important. The pipe allows a condensing combi to release the condensate to a drain or water waste pipe. It needs to be in a safe location so nobody comes into contact with the toxic waste. The flue position also needs considering to meet building regulations and gas safe requirements. A flue must be 300mm to 600mm away from the opening of a window.
Your choice of boiler will depend on the property, what you need and other factors. Despite this a combi is the boiler most people go for due to their low costs. It is wise to discuss your situation with a professional engineer. They will be able to provide you with their expert opinion on which to choose.
Warm is here to provide you with reliable services and advice on topics like how to install a combi boiler. We offer quotes to allow you to get the work you need for your property. If you want to make finding a trustworthy worker simple call us at 0800 311 8990.