A simple guide from Warm.co.uk on what to do and how to cope if you have a boiler breakdown.
When your boiler breaks down it more often than not decides to do so right in the middle of winter. This can leave everyone in the property freezing cold and without hot water.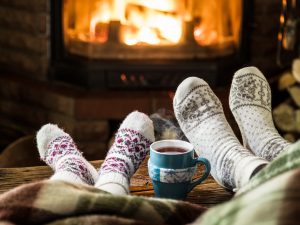 If you have boiler breakdown cover, you simply ring the engineer and they'll be at your home within the next few hours.  For those of you without boiler breakdown cover and struggling to find the money to pay for an engineer to come and fix the problem, you could be spending days living in unhappy and unpleasant conditions; freezing cold rooms, no hot water for baths or showers and having to boil the kettle just to wash the dishes.
How to cope with a boiler breakdown:
A boiler breakdown in winter is much more serious, especially for the elderly or those suffering from health problems. A cold, damp house could possibly be life-threatening.
Your only option might be to grin and bare it but if there's a chance you can stay with family or friends until the boiler is fixed, this would be the best solution.
However, if you do have to grin and bare it, then borrow or buy alternative heating sources, such as space heaters or electric radiators and heat up the main rooms only in your home, such as the living room and warm up the bedrooms for a short while before going to bed.
If you have an open fire or gas fire, you'll be able to keep the living room warm and simply use the alternative heating devices to warm up other rooms as required.
Never use non-electric heating devices inside your property to keep warm. This can include devices such as outdoor gas burners or camping stoves – they emit carbon monoxide and could be dangerous in an enclosed environment.
To provide extra insulation, use towels or draught exluders on the doors, mask any cold spots around windows and keep the curtains pulled to stop the heat from escaping.
Staying wrapped up is essential – keep coats, hats, gloves and scarves on and put your thermals on. Wrap yourself up in your duvet and use hot water bottles and electric blankets to warm the beds up. Drink plenty of hot drinks and eat hot food to keep warm.
You can still bathe too! It might be time consuming but boiling the kettle a dozen times to fill the bath is an option.
Leave it to the professionals
The most important thing not to do is mess with the boiler yourself. Not many people know this, but it's illegal in the UK for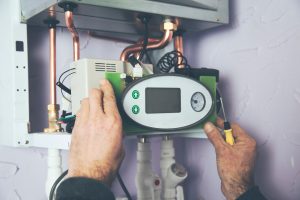 anyone to use gas appliances if they think it could be unsafe.  So call the experts.
Our boiler engineers are Gas Safe Registered and can deal with any type of boiler breakdown.
Call NOW on 0800 311 8990 to speak to an expert and find out more about our boiler service and maintenance plans.  They give you peace of mind if the worst does happen.
Our Gas Safe registered engineers will have you back up and running in no time!