Slowly but surely, warm weather is making a return in the UK. Homeowners across England and Wales should take the time to do some boiler spring cleaning and check their heating systems. This will stop people missing out on the fuel bill savings they could enjoy.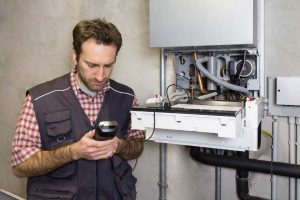 When the year starts out cold, people set their heating to deal with this. Sadly they may fail to change the settings as the year progresses. You should be taking the time to make some small adjustments and checks which will reduce the amount of time you have the heat on. This will help you to cut your energy consumption and bills.
The Oil Firing Technical Association (OFTEC) has offered some 'spring cleaning' advice on what you should try doing.
Adjust Timers
You might have changed the timers for your heating over winter. If so, you should make sure that it now only turns on when you need it to. This is important because the clocks have changed. In addition, you might not realise that the heating is coming on when you are asleep or not at home. A regular check of this can lead to energy savings.
Turn Off Radiators
You will more than likely have at least one room in your house that you do not use regularly. Leaving the radiator for this space turned on is a waste as no one is using this heat. Be sure to also check temperatures for radiators as they might be higher than you need them.
Check Fuel
An essential part of your boiler spring cleaning should be to check the fuel. Heavy use of your heating system can leave some boilers low on supplies. For example you may find that the tank is low on oil and have to order more. If your boiler uses another type of fuel like wood pellets, make sure you have enough.
Check Your Home Insurance
Chances are if you care for your heating, it is fine. Despite this, you should make sure your insurance covers issues like oil spills. See if there are any requirements that you need to be aware of like regular chimney sweeping.
Service Your Boiler
One of the most effective ways to reduce energy usage and also increase the life of your heating system is routine maintenance. You should use a registered engineer who can check that it is operating efficiently and safely.
Even a small oversight with your heating can cost you a lot of money. You can count on Warm for expert help with your boiler and central heating requirements. We even offer lots of useful tips about boiler spring cleaning.
Feel free to get in touch with our team using 0800 311 8990. Alternatively, you can use our quote form if you want three prices for a specific job.