People across the UK are moving to renewables. This is to help the environment, cut bills for energy, and to make the most of the latest technology on offer. You can live a life with a smaller carbon footprint by using natural sustainable resources for heat. One thing you can try is using a biomass boiler.
Renewable Energy
The amount of energy generated by renewables is increasing. Systems that we use within our homes can help combat climate change when you embrace a greener home. There are plenty of options that are available so that you can choose what is best suited for you and your needs. A fantastic example of this is the use of a biomass boiler.
A Great Choice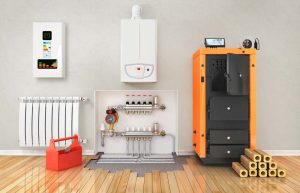 A biomass boiler is similar to a conventional gas one. It provides your property with the hot water and heating that you need. However, it does this by combusting sustainably sourced wood or other fuels.
The use of wood instead of fossil fuel can help play a role in preventing long-term climate change. When new trees grow, they absorb the carbon dioxide that combustion produces. This essentially makes it carbon neutral. Also, trees are sustainable because it is possible to replace any that are cut down.
Approximately 8.5 million tonnes of wood makes its way into the landfills every year. Instead, this could be used to provide hot water and heat in homes. It would provide twice the benefit since it also cuts down on the number of materials that go to landfill.
Savings?
You might be able to experience great savings when you install a biomass boiler in your home. This will depend on your current heating system. For example, the best savings come from replacing an old storage heater or LPG boiler. You can also save when you switch from an old gas or oil boiler.
Another place where you may save is the cost of fuel. Wood is relatively cheap to buy, whether it is logs, pellets or chips. Depending on the amount you use and storage costs, you could save in comparison to how much gas, oil or electricity you would need to consume.
Warm is the team you can count on for help with your boiler and central heating needs. We work with you to find a Gas Safe engineer in your area. These professionals can help you to choose the right type of boiler for your needs. They can also arrange installation, servicing and more.
Contact us using 0800 311 8990 for help and three free quotes.