The best boiler services in Alfreton
Finding a reliable boiler engineer might seem difficult but it doesn't have to be. We can provide the outstanding service you've been looking for. The best boiler is one you can rely on, and we can help make that happen. Give our customer service team a ring today to arrange central heating and boiler installation Alfreton residents appreciate.
All boiler emergencies dealt with
New boiler installation
Central heating installation
Fast response times
Annual servicing and repairs undertaken
Fixing broken boilers across Alfreton
 Initially, it doesn't matter whether your boiler has broken down for some minor reason or whether it will never work again. All you want is a quick solution so you can heat your home again and get hot water on tap – literally.
We're the people to call when your boiler or central heating decides to let you down. Our engineers are experienced in fixing all types and models. Even if yours is years old and is no longer manufactured, the chances are we'll have seen it before and we'll have spares to fix it too.
Why not call us today to see if that's the case? With Warm.co.uk you can arrange reliable services with a local engineer.
And if we can't fix it?
While most boilers can be repaired with the correct parts, no boiler is invincible (even though we might like them to be). Sometimes, a boiler might break down completely or be unsafe to operate again. If this is the case, you can rely on our engineers to provide you with an affordable quote for a new boiler.
We never place any obligation on you to go ahead with a quote if you want one, but you can rest assured you will benefit from our experience and professionalism if you do go ahead. A new boiler could also save you money on your energy bills. So, you could look on it as an investment that could save money long into the future.
And we can provide the most cost-effective solution and boiler installation just when you need it most.
Central Heating Alfreton
When a problem arises with your central heating, the last thing you should be doing is getting frustrated. Instead, you should be contacting someone who can help. It's essential that you do whatever it takes to get your system up and running again before the winter arrives. This is when you need it the most.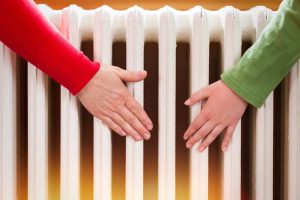 Listen out for when the system is making strange noises. If the sounds don't go away after a while, make certain that there's enough water going to the feed-and-expansion tank. Normally, you can find this in your loft. If you utilise a pressure system, double check to see whether the levels are correct.
The benefits of getting regular boiler servicing
Boilers can be dangerous if they don't work properly, emitting carbon monoxide into the surrounding air. Thankfully, this is rarely the case, but it pays to have a carbon monoxide detector nearby just to be on the safe side.
Of course, if you have your boiler serviced annually, there is less chance of experiencing problems with it anyway. Our Gas Safe-registered engineers can handle your annual service for you, attending your property and working through a series of checks and processes that ensure your boiler is working as it should be.
When you're ready to get in touch, no matter what reason you have for doing so, we'll be glad to hear from you. One of our engineers can come to your Alfreton property as quickly as possible and at a convenient time too. We look forward to hearing from you.
Effective repairs, professional installations and all the help you need. Our boiler engineers are ready to help you however they can. We're ready to take your call now if you need to book an appointment.
No-obligation quotations given
Cost-effective repairs and installations
Energy-efficient boilers
An experienced team of boiler engineers
Rely on Warm
If you need a boiler engineer, it's easier than ever to get in touch with us. You can ring our enquiry line now or just complete the form below. Either way, you're assured of our prompt attention and the best customer service you could want. We pride ourselves on our service, from the moment we take your call to the moment we complete your repair or installation. Even though we prioritise real emergencies, we make sure every customer receives a quick appointment at a time to suit them. This applies to you too, and the sooner you call, the sooner we'll be with you.