Almost everyone moves home at some point in their life. While trends of what people want are always changing, one constant is the need for heat. A survey of over 2,000 British people by GoCompare shows that 82% of people think good central heating is essential. If a home you're looking at is lacking it, it can immediately turn people away.
Does that surprise anyone? Knowing that when winter comes around you will be comfortable is a must for many. As well as this, having to install central heating into a property without it can cost thousands of pounds. It's easier to just look elsewhere.
More people are conscious or heating systems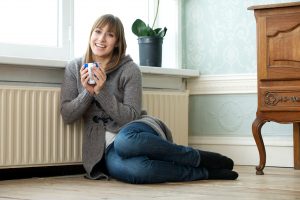 When you look at the must-have property features of previous years, central heating has stayed at the top of the list. Not only this, but more people look for it too, increasing by 13% from last year.
The surveys carried out by GoCompare look at the top 20 things people consider vital for a new home. From the looks of it, there are a number of trends that have disappeared. Being near a good school was the most surprising at 13%, and period features have dropped to 9% of people wanting them.
Another classic requirement that is dropping down the list is a landline telephone. While it was 11th in 2016, it's now at 19th place. This may be due to the rising number of people wanting a reliable clear mobile signal (53%) instead. As can be expected, the need for a strong, reliable broadband connection for streaming media is at 59%. This is likely due to people opting for this over a standard TV package.
Another aspect a large number of people look for is a high energy efficiency rating. This can go hand in hand with double glazing and heating. After all, you don't want to pay for energy and not get the most out of it. From the looks of it, central heating will stay an important factor, if not the biggest, for years to come.
Allow the team at Warm to help you
If you are looking at buying a property and have any concerns about good central heating Warm can help. We work with professional engineers across the UK, making it easy to arrange reliable services. Whether it is servicing, repairs, powerflushing, or new installation, we can help you get exactly what you need. Simply contact us today or complete the quote form.