In Cambridgeshire, the emergency services had to come and rescue a family feline. After getting trapped upside-down behind a boiler, everyone was unsure how he would get out again. A cat stuck somewhere is a problem you want sorted quickly.
Felix the cat got in quite the predicament after becoming so stuck behind a boiler, the owner could not get him out alone. Being unsure of what to do, he decided to call the local fire service.
Rapid response
The firefighters stepped into the property at Papworth Everard and all they could see was Felix's tail – the rest of him was behind the appliance! To save them from having to cut the boiler away to reach him, the team removed Felix the old-fashioned way. They got the firefighter with the longest arms to reach down and pull him out as gently as possible.
Confusion surrounds the situation. The extent of how wedged he became was impressive to everyone. We are still unsure of whether it was curiosity that brought him down there or the quest to find somewhere warm to have a nap.
The Cambridgeshire Fire and Rescue Service were initially worried as there didn't appear to be a simple solution. There was very little space, and he was a fair way down too. They did not want to have to disassemble the boiler but also wanted to get him out safely.
Luckily though, it did not take much time at all. Felix was unhurt and is now resting safely with his owner. Hopefully, he will not attempt that adventure again. Unfortunately, cats do find a way to get to where they want to be.
Maybe it's time to look into placing something over that space? Many other cat owners will understand the hassle of having to cat-proof different areas of your house, to protect both them and your property. It can prove to be a worthy investment. With these measures, having a cat stuck somewhere won't be an issue again.
Move the boiler?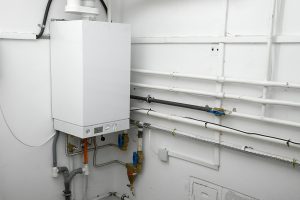 One option would be to move the boiler somewhere pets can't get to it. This can be a challenging task but Warm can help you to find a professional engineer in your area. They will be able to advise you about the best course of action. Keep in mind you should never make alterations to a boiler on your own without consulting a specialist. This is true even if it is something as simple as boxing it off. The last thing you want is to cause hazards.
If you need any assistance you can call warm or complete our quote form.