Couple from Outer Hebrides have a miserable start to the New Year after boiler oil theft at their home
A number of domestic boiler oil thefts in the Western Isles have led to a police investigation.
Over the New Year, a couple were left cold and miserable after their boiler oil was stolen from around the back of their property in Nunton, Benbecula, an island of the Outer Hebrides.
Alex and Margaret Macphee, both of whom are pensioners, had paid out more than £500 before the festive season, to ensure their outdoor oil tank was full in preparation for Christmas and the New Year.
However, a shameless thief came along and siphoned off the whole tank full of oil from outside their home. This left the couple, who are aged 85 and 75 respectively, cold and miserable at the start of 2017.
Cold New Years Day
When the couple's heating suddenly went off on New Year' Day, they thought that their boiler had broken down. They were left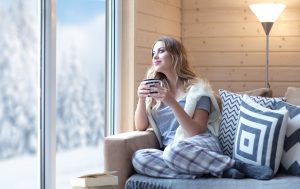 totally shocked to discovered somebody had come on to their land and stolen 1.1 tonnes of oil.
The couple's son, Donald Macphee, said it was disturbing that someone had been hanging around outside his elderly parents home with the intention of stealing boiler oil. The thief would surely have known the couple needed to keep warm during the cold winter months.
The couple had a miserable start to the New Year with no hot water or heating. They believed that their boiler was to blame.
A sick neighbour also had her oil supply stolen sometime before Christmas, which left her without heating on Christmas Day. Meanwhile, a young family were targeted not far away. Again this left them without any oil for two days over the festive period.
Night time theft?
It's believed that Mr and Mrs Macphee were targeted during the night, sometime between December 13 and New Year's Eve.
Their son Donald, said that his parents tank was filled with up to 1200 litres of oil. They only used around 100 litres since taking delivery, meaning around 1,100 litres was stolen.
Residents in the Western Isles have been advised to "secure their oil tanks", to prevent thieves from stealing their boiler heating oil.
Police are urging anyone with information concerning the recent oil thefts to come forward by calling 101, or you can contact Crimestoppers, anonymously, on 0800 555 111.