Having reliable cover is the best way to avoid a boiler breakdown. But what simple measures can we follow ourselves to ensure boilers stays in tip top working condition all year round?
Here's just a few hints and tips for you to follow to reduce the risk of your boiler breaking down, with them you can keep your appliance working perfectly day in, day out.
The most important thing to remember is to arrange for an annual gas boiler service by signing up to an annual plan with us – call NOW.
One of our Gas Safe registered engineers will visit your home once a year to carry out an inspection of your boiler and central heating system. This will make sure everything is in perfect working condition.
An annual gas boiler service should hopefully reduce the chances of a problem occurring.
Our engineer might have to carry out small repairs to your boiler, or may even recommend a powerflush of your system – they are experts in boiler and heating installations, repairs and maintenance, so will ensure your machine and central heating system is working perfectly.
Pipe Insulation
Another way you can avoid a boiler breakdown is by using pipe insulation.  Pipe insulation is easily available at most DIY stores.
Pipe insulation can stop your pipes from freezing up when the weather turns cold. Condensate pipes on a gas boiler are at risk of freezing in the winter and if they do, it could lead to a break down.
This is such a simple, cost effective way of protecting your boilers. It will also help improve the efficiency of your central heating system.
Knowing your boiler
It's also important that you know and understand how your appliance works. If a problem does occur you will recognise the signs. Water pressure on a gas boiler should normally be at one bar, never going higher than two bars. You can refer to the manual for advice regarding simple issues, so make sure to keep it handy.
You need to make sure you know how to deal with the pilot light turning yellow, or if it blows out altogether. The best advice if this occurs, is to switch the machine off and call the experts.
Central Heating System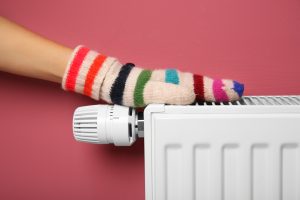 Lastly, ensure your central heating system is working correctly. Check that the radiators are heating up and if you think there could be an issue you with one or two not warming up properly, bleed all the radiators to remove any trapped air from inside the system.
A good idea for the summer months is to ensure your central heating system doesn't become clogged up with sludge. Turn on your heating every month for around 15-20 minutes just to make sure the water keeps flowing.
More Information on how to avoid a boiler breakdown
For more information regarding boiler installations, repairs and maintenance services simply fill in our free Quote Form for a quick reply from one of our expert Gas Safe Registered engineers.