Welcome to Warm Dundee, the easiest place to find and compare new boiler installation quotes. Click here for our online calculator and we'll ask you a few simple questions about your property and boiler. No personal details are required. A fixed price will then appear on screen.
Or, if you prefer to speak direct to local gas engineers, use the "Get 3 FREE Quotes" form to the right. We will match your requirements with our trusted & accredited Gas Safe engineers. We aim to get you 3 FREE no-obligation quotes the very same day.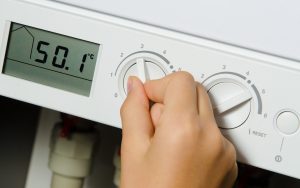 If it's top quality boiler services you are seeking, we can aid you. Our job is to arrange for expert engineers that provide the greatest central heating and boiler installation Dundee inhabitants could hope for. The specialists we work with are also proficient in other areas as well. This includes servicing, replacements, maintenance, and repair work.
Boilers are vital to our daily lives. As such, we must do everything we can to ensure that they're operating properly in relation to financial cost and safety. Unsuitable models cost you money each time you turn them on. The bills might seem small to you at first, but they do accumulate over time.
Advantages of installing a new boiler
Free quotes and advice on every detail of your central heating and boiler
Extensive manufacturer's warranty on every installation as standard
Landlord's Gas Safety Certificate (if necessary)
Fittings completed by qualified and competent Gas Safe registered installers
There are a multitude of energy efficient boilers on offer today. Therefore, it's critical that your preferred replacement is the correct one for you. Due to the advancement of technology, boiler efficiency has increased exponentially throughout the last decade. Furthermore, the price to fit a new design isn't as huge as you may believe. Because of the efficiencies, you'll notice some substantial reductions on your heating bills. In the end, having a new appliance installed becomes more of an investment rather than a cost.
When you contact Warm your needs will be sent on to a local engineer who can provide the right service. We work with providers that supply and fit a myriad of brands and types of boiler, including regular, combi, system, and condensing. Whatever the situation, whether it is a routine upgrade or an emergency replacement, you can rely on us.
Want to arrange the best central heating and boiler installation Dundee has to offer? Simply call Warm on our free telephone number or complete our quote form.
Are repairs expensive?
Repairing your boiler is an option too, but it can be costly. The printed circuit board is usually the most expensive of the repairs. It is the mechanism's brain after all, overseeing everything that occurs. If it is damaged, it may be more cost effective to get a new appliance.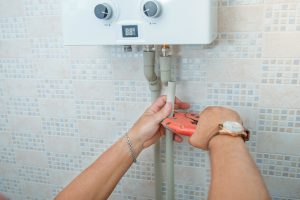 Replacing your gas valve can cost you a fair amount as well. In addition to being an essential component, it's one that must meet the right safety standards. Since this is the case, it comes with a large price tag. There's no need to worry about this if you have an electric boiler though.
The water pump is another integral aspect of the boiler. If it malfunctions, then you might lose your hot water and heating. Replacements could cost you hundreds of pounds.
Contemporary boilers typically incorporate zone or diverter valves. They permit us to manage temperatures in different sections of a building. This way, we don't have to keep everything heated. If you want to replace a ruined valve though, it'll come with a price.
Other elements that are expensive to replace include the ignition, thermostat, thermal coupling, and pressure valve.
A replacement might be better
If the repair costs are accumulating, then you may want to consider boiler replacement. Not only will this give you a new model with a fresh warranty, but it will also enable you to use features that are more contemporary. Generally with a new model you shouldn't have to concern yourself with repairs for years to come.
Central Heating Dundee
It's important to look after your central heating system too. Many individuals rely on a wet system. They depend on hot water to heat the home. This system is among the most economical and efficient heating alternatives available. People prefer to use it in cooler environments. This is since the energy utilised to obtain the same degree of heat is lower in wet systems than with ducted heating arrangements
Normally, it's recommended for people to use these systems inside new buildings. However, this shouldn't prevent you from upgrading your own central heating if you want a wet system. When they run at their full potential, it's possible for these systems to be 300% more efficient than underfloor heating arrangements powered by electricity. If you're interested in getting one of these systems and need help installing it, contact us.
With Warm.co.uk, it becomes easy to find an engineer with the right skills to help with any kind of boiler problem. The Gas Safe engineers we work with are so talented you can be confident that your systems are in the best of hands. If you've yet to decide between repairs or a replacement, we can offer you guidance. More importantly, you are sure to work with one of the best teams for central heating and boiler installation Dundee has.
Dundee is a coastal city on the Firth of Tay estuary in eastern Scotland. Its regenerated waterfront has 2 nautical museums: RRS Discovery, Captain Scott's Antarctic expedition ship, and 19th-century warship, HM Frigate Unicorn. North of the water, Verdant Works is a museum celebrating the city's jute-manufacturing heritage. The McManus: Dundee's Art Gallery & Museum displays art and archaeological finds. Closest cities to Dundee are: Edinburgh 36 miles, Glasgow 64 miles and Belfast 173 miles