Modern boilers can help you to save money in a number of ways. Firstly they generally consume less energy because their overall efficiency has improved. On top of this additional features such as a condenser and heating controls can help to save energy. If you are considering upgrading we can help. With our help you can find an engineer to provide central heating and boiler installation Salford residents will really value.
Why should I choose advanced heating controls?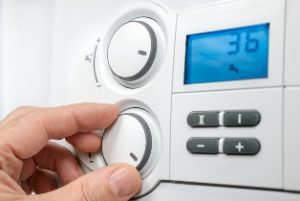 One of the issues with old boilers is they can either be on or off, heating every room in a property or none of them. Valves on radiators can be closed to help cut energy consumption but this is time consuming. It could ultimately leave you keeping rooms warm that you aren't even using.
This is where heating controls come in. With them it is possible to control the temperature in different zones within a property. Therefore you could set the temperature to be lower upstairs during the day when people are out or downstairs. It could also be automated to come on in the evening before people head to bed.
The controls are a far more efficient way to use your heating. They are also easier and less time consuming to change than working your way around individual radiator valves.
Most types of modern boiler will feature controls, whether it is a combi, system, or conventional style one. It is important to ensure you make good use of them. As a result you will stand the best chance to save energy and cut your bills.
Talk to an engineer in Salford
The best way to get advice about a new boiler and heating controls is to talk to a local engineer. Ensure they are properly trained and have the knowledge to help you.
Warm.co.uk can connect you to a professional who offers central heating and boiler installation Salford property owners appreciate. We only work with proven specialists with the right credentials. That way you can trust their recommendations and services.
To find help quickly either contact us for free at 0800 311 8990 or use our quote form. The latter is great if you are looking to explore prices and want to find the right deal for you.