Arranging central heating and boiler installation is one of our main specialities. What we do exactly is operate beside a myriad of locally based engineers and emergency plumbers in order to bring you assistance when you require it. You might need a new boiler, repairs, servicing, or just a bit of advice. Whatever the case, we'll put you in contact with the right people.
Of all the investments landlords made to enhance the energy ratings inside their properties, boilers turned out to be the most popular. They did this because they aimed to adhere to recently introduced standards.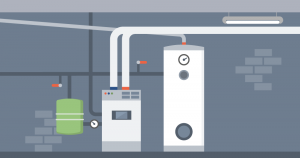 The above discovery was made by Paragon. They found that most landlords knew of the minimum energy efficiency standards that launched on April 1st. The estimate is that 93% of private rent sector houses are above or at the lowest demanded rating. This only leaves a small number that still need to make improvements.
Landlords must obtain an E rating at the very least on the Energy Performance Certificate to comply with the new standards. Should properties fail to meet the minimum requirements, then landlords will face a penalty of £5000 per property at most. Those who own several properties could be facing a huge fine if they don't know about the higher requirements.
The statistics
Landlords were asked what they did in their properties in the time leading up to the standards' introduction. Nearly 39% stated that they had replaced boilers. Around 33% said they had made investments into new windows.
In contrast landlords were not as likely to have introduced cavity wall or loft insulation. The rates could be because landlords had prioritised it in past years.
At Warm.co.uk, to give you as much help as possible, we've partnered up with Boiler Quotes. This enables us to get three local installers to supply you with a quote or call you on the same day. All that's left after that is to choose one that suits you. Therefore it couldn't be easier to find someone to offer central heating and boiler installation for you.
If you would like to know more about us, please get in touch.