Homeowners advised to choose a qualified boiler and central heating technician
The Association of Plumbing & Heating Contractors (APHC) has launched a new campaign advising British consumers to hire the services of qualified heating or plumbing engineers during the peak central heating season.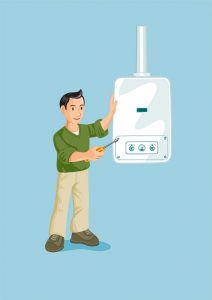 The 'Winter Switch-on' campaign should discourage the use of cowboy tradesmen. Instead, they should stick with Gas Safe and OFTEC engineers during the the big central heating 'switch-on' period.
It is now the time of year when reliable and reputable engineers are in particularly high-demand across the nation. Homeowners are more likely to discover faults and experience breakdowns with their boilers and heating systems following the summer and autumn period. Pipework and components can seize up due to a lack of use or regular servicing.
The desperate nature of a heating breakdown can lead consumers to make rash decisions. This could end with a rogue tradesman performing emergency work on their system.
John Thompson, Chief Executive of APHC, said that problems arise simply because an accredited engineer is not available. Mr Thompson said this can lead to charlatans taking advantage of people in distress.
The APHC offered the following advice to homeowners:
Make enquiries with friends and family regarding reliable heating engineers who they might have used in the past. Keep the contact details of these engineer in case of an emergency.
Hire the services of a heating or plumbing professional who is a member of a trade association, such as APHC. These associations verify the qualifications of their member engineers.
Ensure a engineer is accredited with the relevant safety credentials, such as the Gas Safety Register or the OFTEC register.
Find out the cost of a call-out and how much the engineer will charge for continuous work. Make sure the engineer can not demand more money from you down the line.
Mr Thompson added: "As well as offering high levels of customer service and workmanship as standard, our members are fully vetted with their work checked annually to uphold high standards of workmanship."
If you need to arrange professional help, contact us free on 0800 311 8990. We only work with Gas Safe Registered engineers for your peace of mind.