Coronavirus is changing the world around us as we try to overcome the disease. The changes to society are huge, particularly social distancing and many more people working from home. With people spending a lot more time at home, there is extra pressure on their boilers. This raises the question, what can you do if your boiler breaks? Can an engineer or plumber come into your home to fix if while lockdown is in affect? We want to take a closer look at this to see what it means for boiler services, repairs, and more.
Essential services
When lockdown first began in March all but the most essential services were prohibited. While this could relax under the new system if the risk level comes down, there are still lots of restrictions. As a result you need to decide whether work on a boiler is important enough. If you are without heating and hot water it could definitely fall under this. In addition, there was no specific restriction on boiler engineers and plumbers.
Social distancing
The biggest issue with boiler services and repairs is how difficult it can be to observe social distancing. Luckily, there are ways around this to protect the safety of inhabitants and boiler engineers and plumbers. For example video calling could allow them to look at a boiler to see if they can spot an issue and offer a solution without having to visit the property. They could also inspect locally potentially without having to enter the property.
If a call out is absolutely necessary family members could open the door when help arrives and then isolate in another part of the property. This way they can keep a suitable social distance.
Communication
The risk with anyone going into a home that is not their household is twofold; could they infect inhabitants or catch the illness from them. To maximise safety it is a good idea to tell an engineer or plumber if anyone in the household has had any coronavirus symptoms. The business you call should also be proactive and screen their employees to make sure they have not had symptoms. If they have, or anyone in their household has, they should not be sent on any call outs.
PPE
Anybody who has to enter your home to look at the boiler should also wear suitable PPE. This should include a mask, gloves, and even boot covers or coveralls. That way the risk of infection is much lower.
To extend this the engineer or plumber should wash their hands and use disinfectant regularly. This will further reduce the risk. The inhabitants should also clean surfaces and the potentially boiler itself to ensure there is no risk of infection.
Boiler services and repairs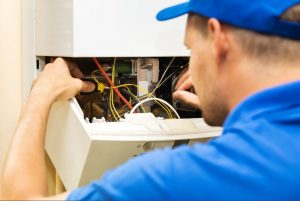 With the limits to essential services only, may things may no longer be available. It is difficult to say that servicing is a vital service if the boiler is functioning as normal and it is only a health check. As a result these services may be cancelled or postponed until it is safer to do them. Sadly that means you may need to wait until there is an actual problem with the boiler before someone can come and look at it.
If there is an emergency and the boiler needs a repair, it is far more important and should be deemed an essential service. As a result you should be able to get the help you need.
What you need to do is check to see what services plumbers and boiler engineers are still offering. Keep in mind there may be a longer wait than usual to get help; some businesses will not be operating or will have different hours. Demand for boiler services and repairs may also be higher because of the extra demands people are making of their boilers.
The main thing to remember is that safety is the most important thing. If you can avoid someone having to come into your property, you should do that. Only ask for someone to come into your home if it is an emergency.