Unexpected boiler breakdowns and plumbing problems are forcing Brits into debt
New research from Halifax bank suggests that over half of the UK population does not set money aside for unexpected household occurrences, such as a boiler breakdown or a malfunctioning appliance. In other words, they don't budget.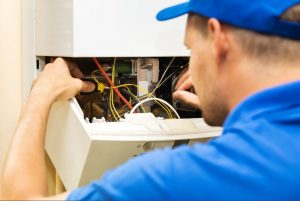 According to the findings, almost half of adults residing in the UK have had to rely on credit cards to pay for emergency repair work in their home or for their vehicle. This includes paying for a new appliance, such as a washing machine or refrigerator.
On average, unprepared householders used their credit cards to borrow £380 to pay off unexpected bills. These individuals resorted to credit cards because they had not budgeted for an emergency incident. Therefore, they did not have a rainy day fund set aside for life's little occurrences.
Halifax found that some householders had to borrow as much as £2,000. This was to pay for such things as boiler replacements, central heating work, plumbing repair work, and faulty vehicles.
Who are the most unprepared?
The Halifax study suggests that those who fall within the 35 to 54 age bracket are the most unprepared. They could therefore struggle with an unexpected demand on their bank balance.
We recommend setting aside a small portion of your monthly income to use in the event of an household emergency. Getting into debt because of a broken-down boiler is not an ideal situation. Even if you save as little as £25 per month, the fund will slowly grow with time. This will offer you financial peace of mind in the future. Make sure you get a budget in order.
Booking an annual boiler and central heating service with a qualified engineer can help prevent any major issues from developing. This can prove to be a wise investment.
To find out more about boiler servicing or for advice from a local, accredited engineer, call us for free on 0800 311 8990. You can also complete our simple quote form for a no-obligation quote.