Money is there to replace the broken boiler but permission is needed first from the Canterbury diocese
When Father Colin Johnson turned up to preach at his parish church he took along his hot water bottle to keep himself warm.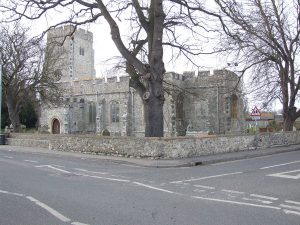 Why? Because the church had suffered a boiler breakdown at the end of last year.
During one of the coldest days so far this winter, the congregation had to endure sitting through service shivering. They did so as the church wardens tried to sort out a replacement for the broken boiler.
The boiler packed in before Christmas at the All Saints Church, in Eastchurch, on the Isle of Sheppy. This leaft the 15th century listed building and all the parishioners freezing cold.
The wardens did manage to get a quote for a replacement boiler of £5,1000. The work is on hold though because the Canterbury diocese insist on having an architectural survey done before they agree to the new installation.
Architectural engineers would like to drill a 2″ vent hole through the stone wall of the kitchen area.
Reacting to the cold
During a recent Sunday mass, Father Johnson from Kent, who's 70, stayed snuggled up to his hot water bottle. The congregation sat with blankets wrapped round them and wore woolly hats and gloves.
Because of the cold temperatures, Father Johnson reduced the length of his sermon. This ensured that he didn't have to keep his worshippers in the chilly church for too long.
Father Gerry Arbor, who shares the services at the church, warned Fr Johnson about how cold it was inside. That is why he came prepared with a hot water bottle.
Father Johnson believes that the church authorities were worried that there might be holes drilled here and there. For this reason, the boiler work is on hold at the moment.
At a recent christening service at the church, the staff had to fill the font up with warm water.
"It is desperately annoying. But all we can do now is pray," said church warden, Yvonne Dyer.
Call 0800 311 8990 today to speak to one of local engineers regarding boiler installation, cover, repairs, servicing or central heating installation.
No job is too big or too small for our local boiler installers, especially not a breakdown. Fill in our simple Boiler Quotes. for a free no-obligation quote within the hour.