Your boiler and central heating system can work very efficiently if you have the right controls in place. With a main thermostat and radiator valves you can ensure you don't waste energy. This is the best strategy and can provide long term rewards. If you want to upgrade your heating we can find an engineer offering the best service for central heating and boiler installation Hull has to offer.
What is the difference between a thermostat and radiator valve?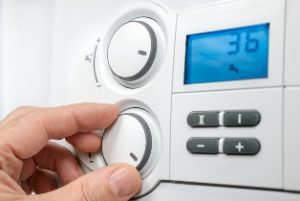 The main thermostat will control your boiler. You tell it when to switch on and what temperature you want it to reach. When the room is warm enough the appliance will switch itself off. This could also happen if you set a specific time for the heating to be off.
Radiator valves are a little different. You set them to a specific temperature and they will stop water from flowing through when this is reached. As a result you can fine-tune how warm each room is. The boiler will remain on but it will only use as much energy as is necessary to reach the temperatures set on the valves.
It is wise to choose a combination of both if you want to ensure your heating is as efficient as possible. In addition, you should ensure your boiler has a high efficiency rating and is in good working order. An upgrade to a modern one with condensing technology built-in would be helpful too.
A fast service in Hull
When it comes to central heating and boiler installation Hull has no team more helpful than warm.co.uk. We work across the area and only deal with professional Gas Safe approved engineers. That means we can find the perfect service for you.
All you need to do is call us on 0800 311 8990. We are available 24/7, both on the phone and via our useful three step quote form.