Welcome to Warm Wolverhampton, the easiest place to find and compare new boiler installation quotes. Click here for our online calculator and we'll ask you a few simple questions about your property and boiler. No personal details are required. A fixed price will then appear on screen.
Or, if you prefer to speak direct to local gas engineers, use the "Get 3 FREE Quotes" form to the right. We will match your requirements with our trusted & accredited Gas Safe engineers. We aim to get you 3 FREE no-obligation quotes the very same day.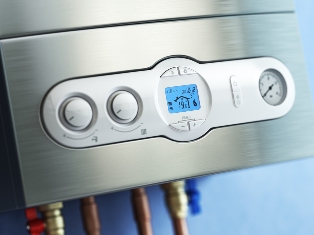 Boilers can be powered by a wide range of different fuels. Deciding which is best for you can be tricky and depends on things like your location, heating and hot water needs, and budget. If you need help making the decision warm.co.uk can help you to find an engineer and quotes. We work with professionals who can provide central heating and boiler installation Wolverhampton home owners will be confident in.
Central Heating Wolverhampton
The way in which you heat your house is incredibly important. The greatest central heating system is going to keep you warm during the winter. Moreover, it's shall ensure that your bills are as low as they possibly could be. One option you may not have considered is using a biomass set up.
This acts as an alternative to using oil, gas, or electricity to heat the home. The difference with this design is that it burns organic material like wood pellets or logs to supply you with hot water and heating. Regardless of the type of heating you choose, we will be able to assist you with its upkeep. The engineers that Warm works with offer servicing, repairs, and more.
A breakdown of different fuel options
Gas Boilers can burn gas to heat water to feed radiators and taps. There are two different options; natural gas from the mains and LPG from a tank. As a result you need to ensure the boiler you choose will work with the option you select. A converter may be necessary when using LPG. The benefits of this fuel are the lower costs and wide array of different boilers and heating systems that can be powered by it.
Oil Many homes in rural areas use oil-powered boilers because they can't access gas mains. Again there are quite a wide array of boiler and heating systems to choose from. The thing to be aware of is you need a storage tank for the oil. There are strict regulations to meet including placement and the sighting.
Solid Fuel Some boilers can operate by burning different types of soil fuel including coal, wood, paper, and combustible pellets. The fuels tend to be very cheap but the fire in the boiler or range needs to be burning at all times. There may be some concerns with efficiency and safety as well.
Biomass These are similar to solid fuel in that they use pellets or wood chips. The fuels are therefore sustainable and cheap. The downside is that the boilers tend to be large and costly to install because a flue or chimney is needed. They also require regular cleaning due to the ash.
Electric Electricity may be the most expensive of the fuels but boilers powered by it can offer many benefits. Most noteworthy, they tend to be compact and are quieter than other models. Users tend to set them to be on in the small hours when they are cheaper to run.
Turn to us
Warm.co.uk is here to help if you would like help deciding on what fuel to use. We can connect you to an engineer with the right knowledge and experience. In fact, we only work with professionals who provide central heating and boiler installation Wolverhampton home owners can trust in. Contact us today at 0800 311 8990 for free or complete our quote form
Always seek advice from a professional
As you can see there are a number of different options in terms of fuel for your boiler. There are so many things to think about before you make the choice. Consulting an engineer is wise; they should be able to guide you.
The top things to keep in mind when considering a new boiler are:
Your heating and hot water needs
The size of the property
Placement and additional requirements such as fuel tanks
The cost and complexity of installation
Operating costs such as fuel and servicing
Efficiency and sustainability
Ultimately the aim should be to choose a boiler that you will be able to rely on for many years to come. As part of this you need to arrange professional installation. In addition you should keep on top of maintenance and servicing. A well kept machine is less likely to break down or lose efficiency.
The easy way to find an engineer in Wolverhampton
Warm.co.uk knows how stressful boiler problems can be. A fast solution is needed, whether it is a repair, service or new installation. Rather than calling different engineers yourself why not just call us or complete our contact form? It will save you time and we can get you quotes as soon as possible. Importantly we work with engineers experienced with various types of boiler, including those powered by different fuels. Therefore, we can find you the exact service you need.
Wolverhampton is a city in central England. The 19th-century Wolverhampton Art Gallery has collections from Old Master paintings to locally made steel jewellery. West, Wightwick Manor and Gardens is known for its William Morris interiors and landscaping. Arts & Crafts–style furnishings and Pre-Raphaelite art feature at Bantock House Museum. Nearby, Victorian-era West Park has a lake, bowling green and conservatory. Wolverhampton is located in the county of West Midlands close to Dudley, Walsall and Birmingham, three miles north-west of the town of Bilston, 89 miles north-east of Cardiff, and 113 miles north-west of London. Wolverhampton lies two miles south of the Staffordshire border, and was historically in the county of Staffordshire. It falls within the unitary authority of Reading. It is in the WV1 postcode district.