We can arrange for the best central heating and boiler installation Tamworth can offer. Our team focuses its talents on aiding the population in finding suitable engineers. Because of this, our services are simple to use, professional, and as friendly as they come. You might be after a hasty repair or a full upgrade. No matter what your circumstances are, you'll always be able to count on us.
Booking one of our services is very easy. When you call, you will discover that there are no obligations. We will ensure that you obtain a free fixed-price quote in good time. It's your choice whether you want to move forwards or not. All of this comes without any annoyances.
Why is my boiler actually failing?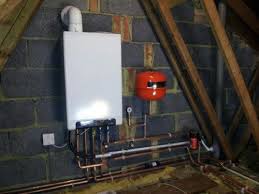 There are many reasons why your hot water or heating is suddenly shutting down. For instance, there could be complications with your boiler. One of the components may be broken. If you organise a check-up with Gas Safe engineers, they can pinpoint the issue. In some cases, repairs are possible. However, certain scenarios will require a complete replacement.
When the hot water is active and your machinery doesn't appear to be wrecked but your heating still isn't working, the settings could be the problem. You can rectify the situation yourself or ask for expert assistance. If there's nothing wrong with your settings, you should look at the diverter valve. It may need replacing, especially if the boiler is old.
During specific cases, trouble arises when you buy a new boiler but leave your current central heating infrastructure untouched. Condensing or contemporary boilers can have considerably higher pressure levels than older ones. This can result in damaged pipes and valves, as well as leaks. Consider replacing your heating at the same time as your boiler.
If you do need help Warm is the right company to contact. We make it as simple as possible to get in touch with the best providers of central heating and boiler installation Tamworth has. More importantly you only need to make one call or fill in a single form on our website.